Micropsitta geelvinkiana Scientific name definitions
NT Near Threatened
Names (15)
Subspecies (2)
Identification
9 cm; 13–17 g. Most of plumage green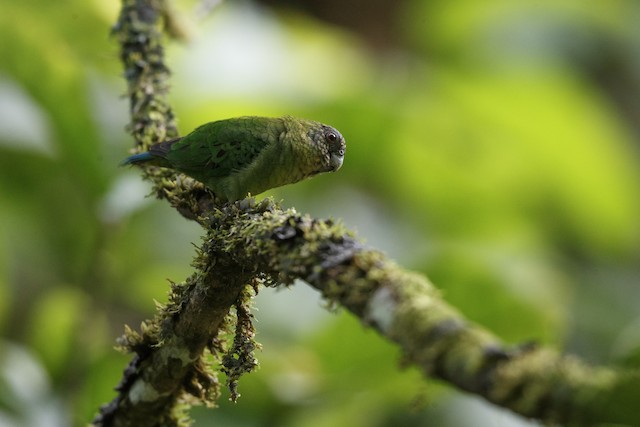 , but crown 
and face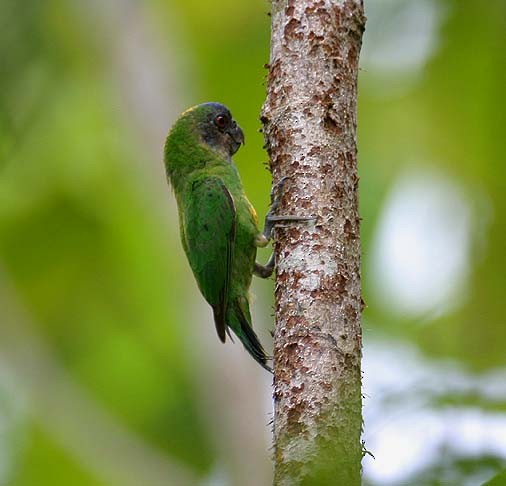 dark brownish blue, bluer on throat, with yellow arc on hindcrown, broad orange yellow centre to underparts from breast to undertail-coverts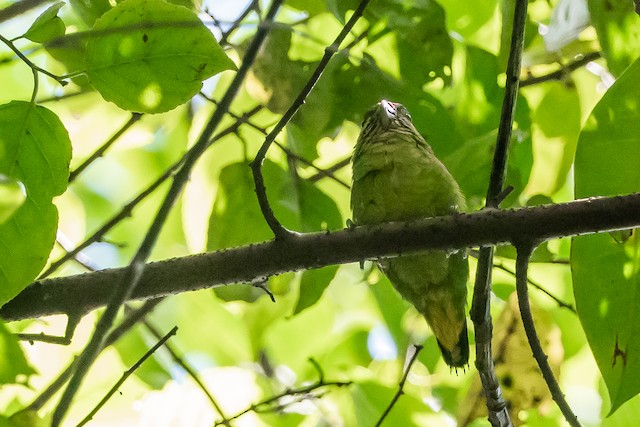 . Female has green underparts and duller face; lacks yellow on crown. Juvenile 
has light-brown face and a wide naked white area around eye. Race misoriensis has head brown.
Systematics History
Editor's Note: This article requires further editing work to merge existing content into the appropriate Subspecies sections. Please bear with us while this update takes place.Forms a species-group with M. keiensis and M. pusio. Two subspecies recognized.
Subspecies
---
SUBSPECIES
Distribution
Numfor I, in Geelvink Bay, NW New Guinea.
---
SUBSPECIES
Distribution
Biak I, in Geelvink Bay, NW New Guinea.
Distribution
Editor's Note: Additional distribution information for this taxon can be found in the 'Subspecies' article above. In the future we will develop a range-wide distribution article.
Habitat
Primary and secondary forest, including regrowth as low as 4 m high, woodland edge adjacent native gardens. Recorded only up to 150 m.
Movement
No information.
Diet and Foraging
Probably lichen and fungus off bark, as in other Micropsitta; crushed seeds were in the stomach of a collected bird.
Sounds and Vocal Behavior
Calls involve high-pitched short notes such as "tsit" or "tsee". Also short high-pitched warbled phrases when perched.
Breeding
Bird with slightly developed gonads in Dec; nest construction in Jun, and 2 nestlings also in Jun. Nest in arboreal termitarium 
.
Conservation Status
Conservation status on BirdlifeNT Near Threatened
Not globally threatened. CITES II. Currently considered Near Threatened. A BirdLife "restricted-range" species. Well distributed in good numbers in lowland secondary and remnant primary forest patches on Biak, and throughout adjacent Supiori (off NW Biak).