Micropsitta meeki Scientific name definitions
LC Least Concern
Names (14)
Subspecies (2)
Identification
10 cm. Head 
dusky grey-brown with light barring, usually with indistinct yellow superciliary; nape and underparts yellow with weak brown edging, giving vague scaled effect; back and wings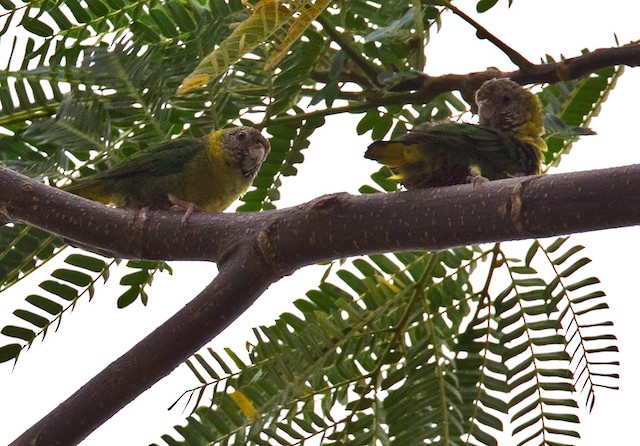 green, with black spotting on median wing-coverts; tail green above, grey and yellow below. Immature undescribed. Race proxima has paler head with distinct yellow superciliary.
Systematics History
Editor's Note: This article requires further editing work to merge existing content into the appropriate Subspecies sections. Please bear with us while this update takes place.Two subspecies recognized.
Subspecies
---
SUBSPECIES
Distribution
Admiralty Is (Manus, Rambutyo, Lou).
---
SUBSPECIES
Distribution
St Matthias Is (Mussau, Eloaua, Emirau).
Distribution
Editor's Note: Additional distribution information for this taxon can be found in the 'Subspecies' article above. In the future we will develop a range-wide distribution article.
Habitat
Primary and degraded forest, apparently commoner in latter.
Movement
No information.
Diet and Foraging
Seen pecking at small warty protuberances, apparently fungi, on smooth-barked tree; also seen nibbling lichen off tree-trunk.
Sounds and Vocal Behavior
Calls comprise high-pitched short notes such as "tsit" or "tsee". Also brief phrases of 2–4 different notes "see-sit-see-seet".
Breeding
One nest reported to have been found in arboreal termitarium, only 25 cm above ground; however, the source of this record is unclear. No further information available.
Conservation Status
Conservation status on BirdlifeLC Least ConcernNot globally threatened. CITES II. A BirdLife "restricted-range" species. Common on Manus and Lou.