Identification
21–27 cm; 130–180 g. Green above, yellowish-green below; upper mandible red, lower black; head red except mid- to hind crown pale violet-blue; dull red stain on median wing-coverts; underwing-coverts blue. Female 
has entire head 
dusky brown, with the brownish-grey bill. Immature has a green head with brown tinges, dull bill. Race floresianus darker with violet extending onto nape; cyanicollis
with long blue-collar; obiensis with wider blue-collar, back brownish; rhodopsin large, dark; exploratory like rhodops but a female with paler forecrown; keyensis large and yellowish, with paler tail; timorlaoensis
similar but smaller; aruensis like floresianus but paler; orientalis similar but a paler violet crown; sudestiensis also similar but yellowish, without brown wing-coverts; cyanicarpus with mauve-violet on face, blue edge to wing; minor like aruensis but back brownish; jobiensis similar but back more reddish; mysoriensis also similar but violet-blue extends over hindneck and red over throat; pucherani
Editor's Note: This article requires further editing work to merge existing content into the appropriate Subspecies sections. Please bear with us while this update takes place.
Race explorator rather poorly differentiated, maybe better synonymized with rhodops. Proposed races sumbavensis and tjindanae are synonyms of floresianus; stresemanni is included within rhodopsin. Seventeen subspecies recognized.
---
SUBSPECIES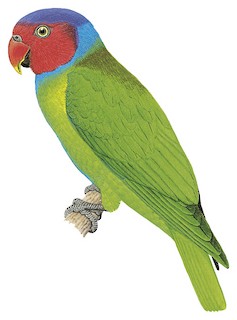 N Moluccas (Morotai, Halmahera, Bacan).
---
SUBSPECIES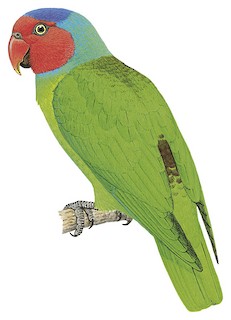 ---
SUBSPECIES
S Moluccas (Buru, Boano, Seram, Ambon, Haruku, Saparua).
---
SUBSPECIES
Seram Laut Is (E of Seram).
---
SUBSPECIES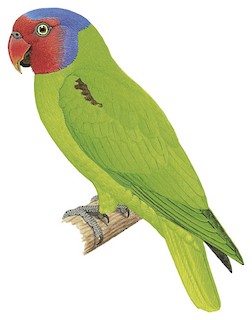 Kai Is (Kai Kecil, Kai Besar).
---
SUBSPECIES
W Lesser Sundas (Lombok, Sumbawa, Flores, Besar, Sumba).
---
SUBSPECIES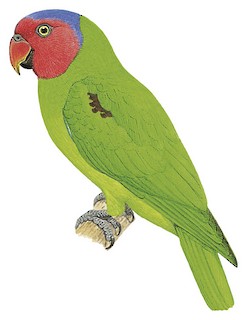 C Lesser Sundas (Wetar, Timor, Semau).
---
SUBSPECIES
Tanimbar Is (E Lesser Sundas).
---
SUBSPECIES
Gebe, W Papuan Is (Waigeo, Batanta, Salawati, Misool) and NW New Guinea.
---
SUBSPECIES
N New Guinea from E Geelvink Bay E to Astrolabe Bay.
---
SUBSPECIES
Mios Num and Yapen, in Geelvink Bay.
---
SUBSPECIES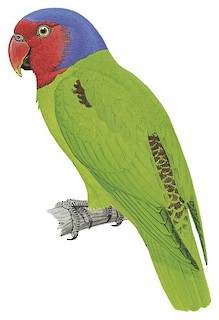 Numfor and Biak, in N Geelvink Bay.
---
SUBSPECIES
Huon Peninsula (NE New Guinea).
---
SUBSPECIES
Misima and Tagula, in Louisiade Archipelago.
---
SUBSPECIES
Rossel, in E Louisiade Archipelago.
---
SUBSPECIES
Aru Is; lowlands of S and E New Guinea, and D'Entrecasteaux Archipelago (Fergusson I, Goodenough I).
Editor's Note: Additional distribution information for this taxon can be found in the 'Subspecies' article above. In the future, we will develop a range-wide distribution article.
Lowlands generally to c. 800 m, sometimes higher (e.g. 1400 m, Flores and Lombok, and 1440 m, Buru), in primary and secondary wet and monsoon forest, being much less frequent in open habitat, but in Lesser Sundas and on a few other islands seems to be commoner in the drier open coastal country including savanna woodland, coconut plantations as well as gardens, mangroves, nypa forest, freshwater swamp- and dryland forest and small offshore islands.
Substantial daily flights are made, but no hard evidence of seasonal movements.
Seeds, nuts, fruits, berries, flower buds, blossoms all recorded, but seeds within fruit, such as Eucalyptus papuana, Casuarina papuana and Alpinia, appear important; also seen taking the fruit of the savanna tree Antidesma gaisambulla and Ganophyllum falcatum, and mistletoes.
Sounds and Vocal Behavior
Very vocal. Vocabulary includes a wide variety of calls, e.g. nasal screeches repeated at a constant pace, whistles on an even pitch of which some are quite melodious and others sound like a horn, as well as various squabbling phrases.
Apr–Aug in Lesser Sundas; Feb in NW New Guinea; Oct in NE New Guinea; Apr and Oct-Dec in S New Guinea (probably in most of the year throughout the island); Aug–Dec in Australia. Nest in a hole excavated by a female in dead trunk or branch, 4–25 m up; on Sumba keeps apart from nesting associations made by other psittacids; in Australia noted to nest often at the forest edge, or in Melaleuca or Pandanus woodland adjacent to the rain forest. Eggs 3; incubation by the female; young stay with parents perhaps into the second year, possibly assisting at the nest.
Conservation status on Birdlife
LC

 Least Concern
Not globally threatened. CITES II. Common to abundant throughout much of range; estimated at 30 birds/km² in one area of New Guinea, and at 80 birds/km² on Halmahera. Common on Sumba, Bacan, Obi, and the coast of Seram, less so in interior hills, and this diminution of numbers with elevation applies apparently throughout the range. Moderate numbers throughout Buru. Population of race aruensis in N Australia very restricted and feared likely to suffer from loss of suitable old nest-trees through late dry-season fires.