Identification
37–43 cm; 95–143 g. Pale yellowish-green, with upper mandible dark red-tipped black, lower black, with a black chin and malar area curving and narrowing into half-collar on side of neck, where bordered below by a narrow rose pink line that extends over nape, above by indistinct mauve-blue extending onto hind crown; flight-feathers duskier green above, grey below; tail bluish green on central feathers, ochrish below. Female lacks blue, pink, and black on the head but can show emerald collar. Immature like female but yellower, with no or indistinct collar. Race parvirostris darker, with stronger pink collar in male, upper mandible all red; borealis  larger and more greyish below, with more blue on the head, the bill usually all red; manillensis 
Editor's Note: This article requires further editing work to merge existing content into the appropriate Subspecies sections. Please bear with us while this update takes place.
In the past was sometimes considered conspecific with P. eques. Proposed race centralis (probably from Sudan) included within nominate; fragosa (from Rajasthan, W India) is a synonym of Borealis. Four subspecies recognized.
Feral in many places, mainly in cities and their environs, in Africa, Arabia, W Palearctic and W Asia (some of these populations may conceivably be natural); also Mauritius, Seychelles, Hawaiian Is, Hong Kong, Macao and Singapore, and apparently USA and Venezuela; unclear which races involved, although often attributed to borealis.
---
SUBSPECIES
S Mauritania, Senegal, and Guinea E to S Sudan, South Sudan, and N Uganda.
---
SUBSPECIES
EC Sudan, N Ethiopia, Eritrea, and Djibouti.
---
SUBSPECIES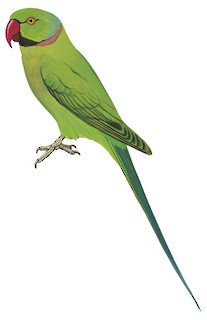 NE Afghanistan and N and E Pakistan E through N India, Nepal and Bangladesh to Myanmar and possibly S China (extreme W Yunnan).
---
SUBSPECIES
peninsular India S of 20° N, and Sri Lanka.
Editor's Note: Additional distribution information for this taxon can be found in the 'Subspecies' article above. In the future, we will develop a range-wide distribution article.
Chiefly deciduous habitats ranging from semi-desert to light secondary jungle, mainly in lowlands but ranging in Asia up to 1600 m and in Ethiopia to c. 2000 m. Short-grass and semi-desert savanna, open scrub and bushland, wooded valleys, savanna woodland, riparian and evergreen forest, foothill pine zone in Pinus roxburghii, open agricultural land with scattered trees, gardens, orchards, cultivations, often also grain yards at entrepots and railway stations.
Resident, but subject to minor local movements in Africa, e.g. recorded throughout the year in Ouagadougou, Burkina Faso, except Jun, and a rainy season visitor (Aug–Nov) to parts of S Mauritania. Also irregular in Ghana and one part of the Central African Republic.
In Africa, recorded fruits 
include Ficus, Ziziphus, Tamarindus, guavas, dates, mangoes, baobab, seeds of Acacia albida and Slassus, plus cultivated seeds and nuts of millet, sorghum, lentils, guinea-corn, groundnuts, oil-palms, coffee. In Asia, specific items identified include seeds of Prosopis spicigera, Acacia arabica, Casuarina equisetifolia, fruit of Dalbergia sissoo, Ficus, Acacia, Ziziphus, Xanthium, Melia azedarach, Azadirachta indica, and Albizia lebbek, flowers and fruit of Capparis aphylla, flower petals, and nectar of Salmalia malabarica, Erythrina Indica, Butea monosperma, Bassia latifolia. In Asia, especially India, regarded as one of the most destructive bird pests in agriculture, coming in enormous flocks to cereals and fruit crops, especially Citrus and Prunus; however, in one area, guavas (Psidium guajava) were the favored cultivated fruit, with maize eaten Sept-Dec, groundnuts Nov–Mar, and May-Jun, and wheat Mar; in another, pearl millet, sorghum, and maize were greatly consumed Aug–Dec, guava Jan–Mar and Jul–Aug, mulberry (Morus alba) seeds Apr–May. Coffee, chilies, sunflowers, mustard, pepper, and gram also attacked; will tear open sacks. Feral birds in the UK take fruits and berries of Rosaceae, Ilex, Sambucus, nuts of Fagus, Aesculus, Carpinus, Fraxinus, Pinus, cultivated fruit, and cereals, food at bird-tables; feral birds in Arabia take dates, grain, seeds of sunflower and Caesalpina.
Sounds and Vocal Behavior
Mainly gives rather high-pitched dry screeches, often in fast series, e.g. "kreeh-kreeh-kreeh-kreeh…". Groups can be very noisy. When perched, repertoire also includes squeaky notes, piercing whistles, and subdued squabbling calls.
Dec-May in W Africa and probably also Arabian Peninsula (possibly introduced); in Nigeria, nesting attempted in May, but failed owing to aggression by Red-billed Hornbills (Tockus erythrorhynchus); Sept in South Africa, in willow trees over a large pool; Jan–Apr, sometimes to Jul, in Asia; Jan–Jun in the UK (introduced). Nest in hollow 
in tree 
, usually enlarged by birds themselves, 3–10 m up, but sometimes in rock faces or ruined walls; often loosely colonial. Eggs usually 3–4, rarely six, size (nominate, laid in captivity) 29–31 mm × 21·5–22·1 mm; incubation lasts 22 days; nestling period 7 weeks. In England, clutch size 3∙7 eggs on average (n = 77), nestling period c. 49 days, 72% of nests successful, and 1∙4 young fledged per nest.
Conservation Status
Conservation status on Birdlife
LC

 Least Concern
Not globally threatened (Least Concern). CITES III (Ghana). Common to abundant throughout the natural range and in many places where introduced, e.g. Mauritius, and generally increasing in numbers and range, partly through introductions and escapes, partly through the use of spreading agriculture and horticulture. Introduced to but died out from Zanzibar, the loss being attributed to House Crows (Corvus splendens). Noted as a crop pest at the start of the century, Ghana, and now recognized as such throughout its range, including areas where introduced such as South Africa. Only fairly common, Myanmar; very rare in a limited range, China. Now common and exponentially increasing in many European cities, including London, Paris, Brussels, The Hague, Cologne, Bonn, Rome, Barcelona, Madrid, and Lisbon. In the London area, where breeding was first reported in 1970, the population increased at an average annual rate of c. 30% (5) and there were c. 30,000 birds by 2006–2008; in Brussels, the first breeding was in 1975  and there were more than 10,000 birds in 2008; in Paris (Île-de-France region), first breeding was in 1980 and there were c. 500 birds in 2006, 1050 birds in 2008 and 5000 birds in 2014. The success of the establishment seems at least partially due to food being provided at bird-feeders (11). This species may compete with native cavity-nesting birds, like Eurasian Nuthatch (Sitta europaea) in Brussels (12), or even with bats, like greater noctule (Nyctalus lasiopterus) in Seville, Spain .